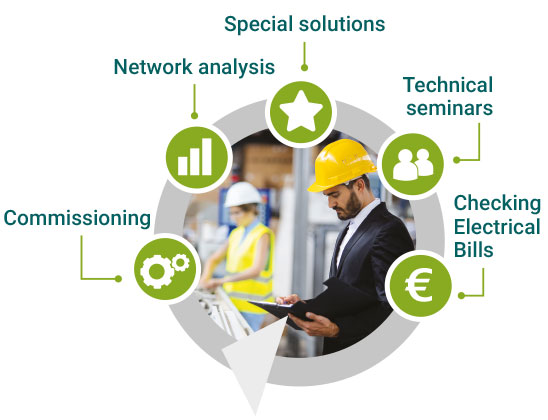 Network analysis
TELEGROUP makes use of its technicians and advanced technology equipment to carry out inspections and network analysis, especially in the most critical applications and subject to a greater presence of harmonic phenomena.
Special solutions
In addition to its standard product range, TELEGROUP designs and manufactures power factor correction systems with voltages from 230 V to 800 V, 50 and 60 Hz, according to customer specifications.
Technical seminars
For years, technical meetings in collaboration with professional associations both in Italy and abroad have represented a key step in our activity.
Checking Electrical Bills
Verification of electricity consumption and penalties for excessive consumption of Reactive Energy imposed by Energy Distributors.
Commissioning
Assistance in panel start-ups, verification of current transformer positioning, illustration of Controller functions.